Complete Form to Download the Virtual Skills Training Brochure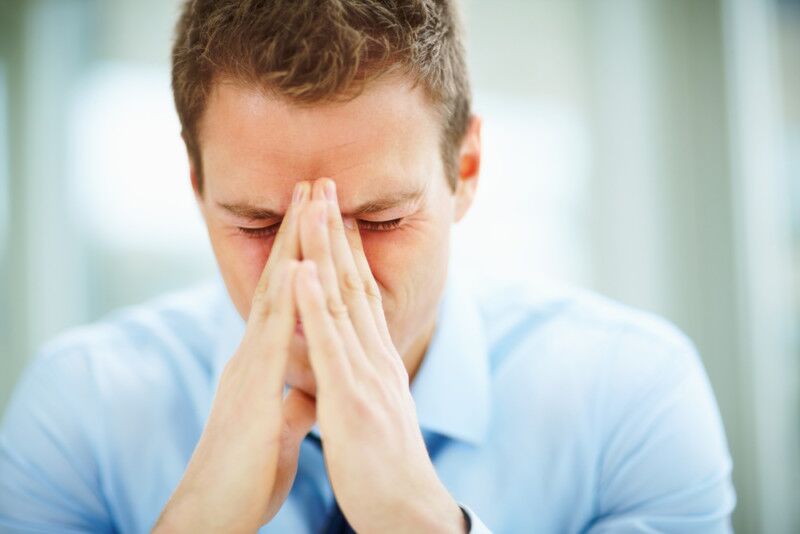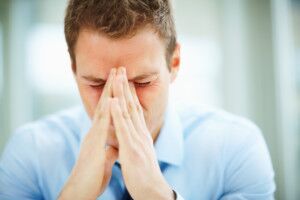 Are your people struggling in an increasingly virtual work world? As we navigate a global pandemic together, remote work will become more and more common. The problem is that most professionals still need to upgrade their virtual office skills.
This means getting better at virtual meetings, organizing digital information, mastering Office 365, leveraging mobile apps, and for some, connecting with clients from a distance. The Get Control! Virtual Skills Training program is packed with useful, time-saving insights that will help your people get organized, prioritized, and ready to excel. Webinars are dynamic, interactive, fun, and useful. Our training is supported by our Quick-Hit Video library which is available in seven languages.
Learn how to run polished, professional, and highly engaging WebEx, Zoom, or Teams sessions. Leverage Outlook to create useful templates while optimizing your mobile world. Participants save time, 15 days a year while boosting performance and digital skills. Contact us today – Virtual Skills Training is more important than ever!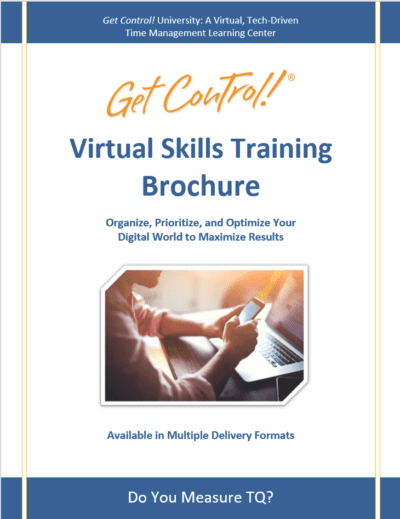 Virtual Skills Training That Delivers Measurable Results
Challenge
After Covid, digital skills and time management are more critical than ever. Powered by over 100,000 workforce surveys, Get Control! University has developed a robust suite of training programs and an exciting new diagnostic tool called the Tech Quotient Assessment Tool or TQAT for short.
Solution
We've developed a powerful new, learning experience that is perfectly suited to the more virtual post-Covid world of work. Our webinars, videos, and emodules fall into three major areas.
1 Virtual Skills Training
Professionals who excel in live meetings often struggle to deliver winning virtual meetings and presentations. Suddenly, all non-verbal cues are gone, and the presenter is staring into a cold, lifeless webcam lens. The other meeting participants often stare back at a nervous, dimly lit, poorly framed person beset by tech glitches and awkward moments.
In this class, participants will develop a calm, positive, winning virtual presence. A key focus is boosting salesperson likability so that clients will want to spend more rather than less time with them. They will discover practical ways to plan, engage clients, present with impact, and master their digital domain.
2 Tech-Driven Time Management Training
It's hard to prioritize and get things done in a world overflowing with email, tasks, and interruptions. Classes like Get Control! of Email, Outlook, and Teams help participants save time and get more done. Attendees will:
Master advanced, time-saving features within Outlook, Teams, Planner, Google, PCs, and SmartPhones
Discover new digital tools that help them organize, prioritize, and complete tasks
Reduce interruptions, low-value email, and save time via rules, smart shortcuts, and setting changes
Dive into a whole new world of mobile and smartphone strategies that dramatically boost productivity
Craft clear, concise, and actionable email and chat messages
3 Organize Your Digital Office Training (365)
Incredibly, 93% of all professionals struggle to manage and organize their countless digital files, links, and email messages. Most receive little training on file management best practices. Most professionals fail to master Office 365's numerous apps, formats, and features. to make matters worse, Get Control! will help your people:
Master Office 365's desktop, browser, and mobile versions
Organize, prioritize, and shortcut to all web links, email, and digital files.
Boost performance via advanced search and browser bookmark optimization
Discover new 365 apps like Forms, Teams, Planner, and Sway.
Your people spend over 70% of their day immersed in technology – struggling to focus in a world overloaded with non-stop email and meetings, constant interruptions, and surprise tasks. Virtual skills training has become a critical success factor for teams and organizations. Isn't it time you helped them get control? Complete the form to receive a brochure!